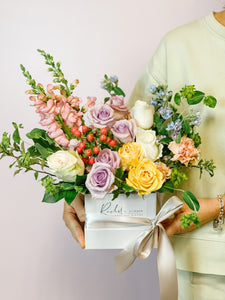 This bloom box is nothing short of stunning and this colour palette is ready for a party! Vibrant, premium roses along with other mixed blooms packed into our signature small white or pink square box and finished off with a perfect bow. The perfect arrangement to say Happy Birthday, Happy Anniversary, Congratulations, or just to let someone know you're thinking of them!

Available in Bloom Box or Vase
Floral varieties may vary based upon availability but we promise to make it beautiful!